I have always been a big fan of Glenisk Yogurt, so I was extremely interested when I saw that Glenisk launched a new product line. Strained Greek Yogurt. Plain yogurt is my favoruite and I prefer Greek style yogurt to most others – plain Greek yogurt is so versatile – you can make cacik (Turkish dip with cucumber and garlic), labneh (Lebanese style cheese), lassi (Indian yogurt drink – I like mine salty) and so much m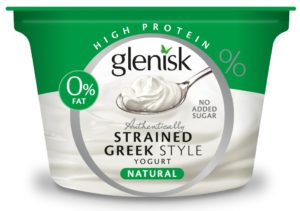 ore.
So I wanted to know the difference of any ol' Greek Yogurt to the strained one – first off, it is firmer than normal yogurt and has a pleasant slight tang to it. I used it to make labneh and didn't need to strain it for too long as the water of the yogurt was released pretty quickly. I was left with a wonderful cheese that tasted a lot better than the cheaper yogurts. I am converted for the natural Greek strained version.
But of course, I had to try the other yogurts from the new range and settled on Vanilla and Blueberry. Again, the texture was firmer than normal yogurt and it gives you a feeling of more than you actually ate. The vanilla flavor was beautiful and aromatic and can even serve as a dessert, served with some fresh fruit. The ingredient list is short – always a good sign – and agave syrup is used for sweetness rather than sugar and they even use real vanilla next to natural flavourings and for all health conscious people – it has 0% fat.
The blueberry one is nice but could do with a lot more flavor although it is made using fresh blueberries but I would love a deeper touch of it. This time, sugar is used and therefore has some carbohydrates (8.3g of which is 7.7g sugar), again 0% fat. The texture is again fuller and leaves you fuller than a normal tub of yogurt would.
What makes this product line special is the fact that it is made using natural ingredients as much as possible and that each yogurt has 0% fat and is high in protein. My personal favourite is the natural one and it will have a permanent place in my fridge.
I have not been paid to write this review but have received free samples.