The other day I discovered Buffalo Mozzarella in Aldi for €1.99. Imagine my surprise when I saw that the cheese was made in Macroom. I assumed it to be a private label from Toonbridge Dairy but I was completely wrong. Buffalo Farmer John Lynch and a small team of dedicated people have established Macroom Buffalo Mozzarella. His cheese maker is Sean Ferry formerly of West Cork Natural Cheese that made the beautiful Desmond and Gabriel cheese.
Of course, I had to try it out. The texture of this beautifully white mozzarella is firm skin with a softish centre, slicing it is easy and the cheese is not slimy from the brine at all but comes out clean. The taste has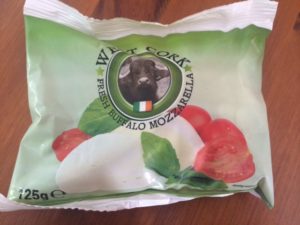 a slight salty taste that is very pleasant. I used it first to make pizza and the melt was even and added a nice depth to the pizza. As I loved it so much, I went straight back to Aldi and bought some more.
This time I made a delicious bruschetta with baguette bread (didn't have time to make lovely ciabatta) and again, the cheese added a nice dimension to a simple snack. The melt again was even and kept its shape. I also got a jar of lovely homemade wild garlic pesto from John Leonard and drizzled over the cheese was just the perfect finish.
Macroom Buffalo also makes ricotta and haloumi – 2 cheeses I have yet to try but are securely stored in my fridge.
I bought the mozzarella myself but was given ricotta and haloumi samples from Macroom for free. This review is a true opinion of myself and I have not been paid to review this product.