A few days ago, I attended the AGM of CAIS (I am a proud member) which took place at the Macroom Buffalo Farm. I am a huge fan of the mozzarella they are producing and was delighted, when a few years ago, they decided to create more cheeses from their high quality buffalo milk.
So, when it was time to leave, I thought I'll get me some of their delicious cheeses. Lina, manager at the cheese room, only had haloumi and ricotta left – not that I minded at all as they are both utterly tasty.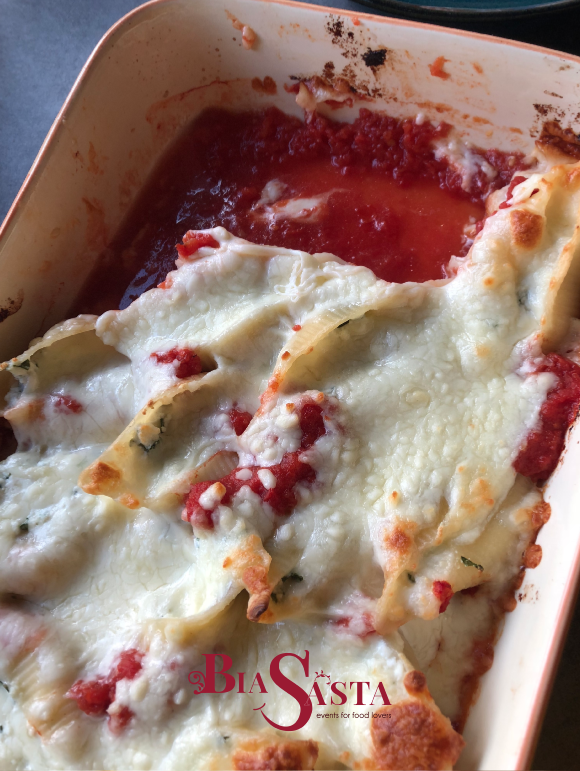 Ricotta is actually a by-product of mozzarella-making and Sean Ferry creates a smooth, yet textured version of ricotta. Cheese lovers will remember Sean Ferry from his times with Bill Hogan, creating the amazing Gabriel and Desmond cheese in West Cork.
Anyhow, I used the ricotta as topping for pizza (long story but I ended up with loads of tomato passata, salami, fresh basil and commercial mozzarella – don't ask) and had it on crusty bread, drizzled with honey. Looking through my stash of dried food, I came across a jar of pasta shells and since I still had loads of passata (also made a tasty soup from it – no waste in this house, José), hte decision was made to stuff the shells with the rest of the ricotta cheese.
Traditionally, the ricotta is mixed with spinach but I didn't have spinach so decided to use the large amount of basil instead (it was packaged rather than potted, so started to wilt quickly). In most recipes you will see that the ricotta is mixed with an egg as well – as I didn't follow a recipe, I didn't add one and the result was perfect.
Using the fresh basil instead of the spinach added a fragrant note to the dish and it went perfect with the tomato sauce. If you can't get your hand on fresh basil, use a good quality pesto instead.
The recipe below is just a guideline – add your own twist to it and make it your own.
Stuffed Pasta Shells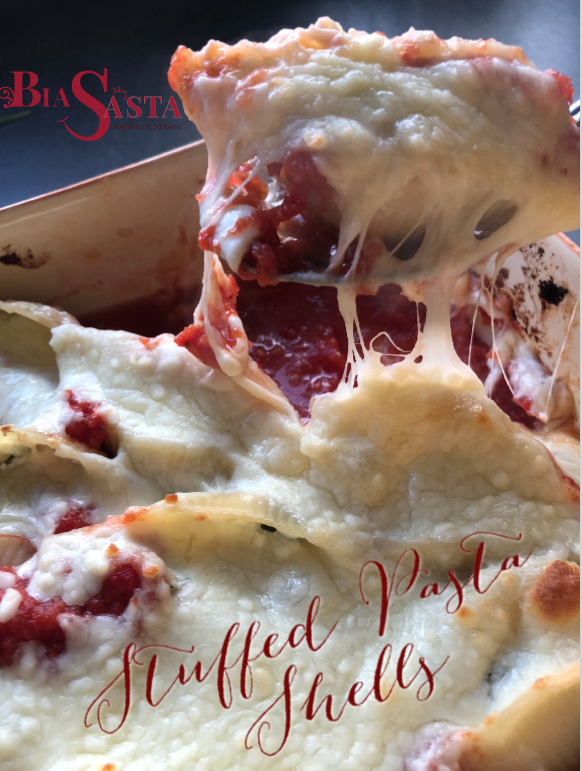 Large Pasta Shells (about 4-5 per person, depending on how hungry they are
300g ricotta (you want a good quality one)
large bunch of fresh basil, shredded
80g parmesan cheese, grated
300g mozzarella, shredded/grated
350g tomato passata
1 tsp tomato paste
seasoning
Cook the pasta shells just al dente (less time as instructed on the package) – the pasta will cook in the oven again, so make sure not to overcook them. Drain and set aside to cool slightly.
Preheat your oven to 160C
In a bowl mix the ricotta cheese with the basil, parmesan cheese and 100g of the mozzarella. Season to taste (I personally don't like pepper so only used a bit of salt – I wanted to basil to come through).
Mix the tomato paste into the passata. Cover the bottom of an oven-proof dish with some of the sauce (prevents the shells from sticking to the bottom).

Carefully stuff the pasta shells with the ricotta mix (you can also use a piping bag – less messy). Place the shells in the oven-proof dish, spoon over the sauce and sprinkle the rest of the mozzarella on top.
Bake for about 25 mins until piping hot and the mozzarella on top has melted and slightly browned.