Manchester has more to offer than soccer teams and my first visit to the city last week was proof to that. Although the main point for the visit was a Manchester United match I made sure that food played a big role. Mr T and myself are terrible in planning any trip we have been to in recent years, we just walked the cobblestones of the city and relied on our luck to find some nice spots for us to satisfy our greedy tummies. We arrived on a Tuesday afternoon and had only limited time until the match started, so opted for one of the many pubs that serve food. We came across The Piccadilly Tavern on the way to the station and although the building was covered in scaffolding and a cover, we decided to give it a try. It is a big pub, almost Weatherspoon like, but more 'grown-up' – we both ordered fish n' chips and I have to say, the chef can cook. The fish was flaky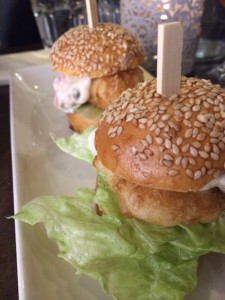 , the batter light and crisp. The chips and peas were nothing to write home about but the fish made more than up for it. The portion was huge and a bargain at £5.79 (I think there was an offer for 2 portions for £8.99). The selection of craft beers and cider was an added bonus and we left the pub happy and stuffed. The Piccadilly Tavern is great for a night out with friends or if you are just out for some quick but good food.
As we didn't book our hotel with breakfast, we set out Wednesday morning to find a spot where we could get some nice morning feast. As Mr T was in urgent need of an espresso (his daily must), he went into a Starbucks – as much as I begged him to wait for a 'proper' place. Don't think he will be doing that anytime again soon as he was wondering what the 'barista' did to the poor coffee beans. Anyhow, we also came across a Penny store (called Primark) and of course, had to pay a visit (and spent some money in the process). Large store and oh so clean and orderly. But back to our breakfast – not having any sense of direction and not using the map we got in the hotel we came across many chain places like the one mentioned before but I put my foot down this time and we kept on walking until we came to a row of restaurants (mostly closed at this hour) but found Gino di Campo's azure coloured restaurant that was open for breakfast. Located in the Corn Exchange, it is a cluster of restaurants and Gino's place just happened to be open so we followed our tummies and took a place near the open kitchen. An airy feel to the place was a nice change to the dark weather outside and invited us to a lovely atmosphere emphasized by Italian background music. All waiters and chefs were Italian and in typical style (at least what I imagine is typical in Italy) the chatter of passionate voices was waving through the dining room. I opted for the panini filled with buffalo mozzarella, tomatoes, roasted peppers and pesto, packed to the rim, it set me up for the day ahead. Mr T ordered Gino's breakfast, the Italian version of a fry up – and for all that, a glass of Rosato was needed – after all, we were on vacation. All in all a nice breakfast (in Michelin terms it wouldn't have warranted a detour), nothing wrong with it. Only comment I would make; they have to work on their tea, we both didn't like it. Breakfast came to £22.50 incl the prosecco (tip was extra).
Walking out of Gino's and with filled tummies, we started to discover Manchester. Beautiful historical buildings trying hard to stand up to ugly (in my opinion) towers and blocks of glass & concrete. Always my eyes peeled on any food business, we came across Hotel Chocolate – an elegant boutique for chocolate lovers. Beautiful truffles in elegant packaging, heart shaped chocolates brushed with deep reds, gift wrapped in pure luxury – Valentine's was in full swing.But it is not all about edible chocolate with offerings of Cocoa Gin, Salted Caramel Vodka and their wine from their own vineyard give the chocolate addict enough pleasure to last a lifetime. We resisted the urge to buy half the shop and promised to return (which hasn't happened due to time restrains). Further down the same road, we found Whittard's of Chelsea – one of my favourite tea shops. Beautiful tins of teas, black, green & white – flavoured and pure, the offering is almost endless. Glass tea pots were arranged around the shop for tastings of different teas. I couldn't resist to by some white cherry blossom tea – it's simply delicious. I also bought a lovely tea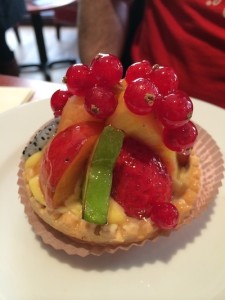 strainer – yes, I am a sucker for these small things.
Continuing our quest of discovery, we started walking again and came past the good old favourites that also line Cork's streets including Waterstone's. I planned to walk by but a book in the window caught my eye – 'The Manchester Cook Book' is a lovely selection of recipes from chefs of the city. Of course I had to have it (and that was reason enough for me) so in we went to the largest Waterstone's shop I have seen. Three floors of books – covering all subjects. My favourite subject was on the top floor and I had to restrain myself not to buy shelves worth of books. I stuck by the book that pulled me into the shop in the first place (which actually was located on ground floor). After all that upstairs-downstairs affair in Waterstone's Mr T was in urgent need of a snack and after we saw Patisserie Valerie and their beautiful pastry offerings. At this stage we thought it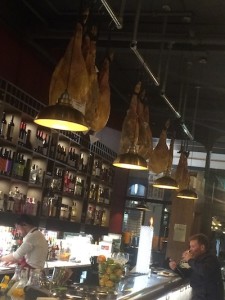 was an independent cafe but it turned out to be a chain. Nevertheless, Mr T got his fruit tart and we had a lovely tea that gave us enough energy to continue walking the streets of Manchester.
While walking the streets, I kept eyes out for places to go for dinner later that evening and by pure chance did we see Lunya, a Catalan deli that was bursting from its seams with goodies from Spain. Dry-cured hams hanging from the ceiling, displays of beautiful cheeses and olives lined the cabinets while the shelves were stacked up high with wines, sherries, spices and more. I knew that if I am let loose I would get arrested at the airport for smuggling food & wine into the country. But to my delight, the deli had a little tapas bar attached and I made the decision for both of us to return for dinner later that day. All that walking made for some thirst and Mr T saw a beer house earlier in the day near the train station, so we headed that direction. The Piccadilly Tap is a place for beer – t
The menu was extensive and ordering wasn't easy (I am terrible deciding on a selection) but we managed to order four dishes each ranging from slow cooked shoulder of pork, salt cod fritters to goats cheese with orange blossom drizzle and deep-fried Padrón Peppers. The cauliflower fritters need a bit work as they didn't really work but overall it was a pleasant experience with the food being served in waves – with the small tables a perfect solution. They also have the largest selection of cheeses I have ever seen on a menu (actually, they had a separate menu just for the cheese) so obviously, we had a large platter of cheese, served at perfect temperature and came with fig jam, grapes and quince paste. A small place packed to the rim with Spanish goodness. I will be back (if I ever make it back to Manchester).
The next morning wasn't worth talking about – at least food wise. Just a word of advice, stay away from Missoula – I really don't want to describe the food as I didn't make a complaint at the time. Just I won't be back. All in all, it was a lovely time and my tummy was happy with the offerings (I didn't finish the breakfast on the last morning – although Mr T did and felt sick for the rest of the day)