I never win anything and I mean anything. Therefore it is not very often that I enter a competition but ain't I happy that I enter Jacob's Cracker Guides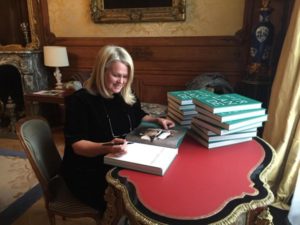 Competition, giving away Trish Deseine's latest cookbook 'HOME – Recipes from Ireland' (could never resist a cookbook). The book was already on my wishlist so you can imagine my utter delight that my name was picked (I think I might even had done a little dance).
The book looks simply and unassuming. A plain green cover with white typing – it hides a beautiful collection of recipes and stunning photography. This is a very personal book as Trish shares memories from her life in Ireland's North – days out, nights in and everything is translated into food. Growing up on a farm in Antrim set her on a journey of discovery that lead her to France where she became THE Trish Deseine we all know and love.
The recipes are easy and range from porridge to bacon & cabbage (by Seamus Hogan) and breads like soda bread & Guinness bread. This book is a lovely collection of Trish's own recipes and some of Ireland's best known food 'royalty' like Darina Allen, Sally Barnes, Robbie Krawczyk and Derek Creagh – Trish is visiting beautiful country estates (Ballyvolane House in Fermoy – really have to visit, it looks stunning), farms (Holestone) and restaurants (Ox in Belfast) and shares their stories as much as her own. Don't get me wrong, this is not a coffee table cookbook – this is a book to be used, to be explored and invites you to create your own food stories to pass on and share. Trish gives credit where it is due – she shares the 'Magical Carrageen Remedy by Joe McNamee (Cork based food writer for the Irish Examiner) – the perfect remedy for a chest infection (according to the creator). The book covers the whole of Ireland, considering it as one and is almost a travel map for food lovers. The book invites the reader to go on a trip and discover Ireland through its food and meet the people behind the food.
As I mentioned before, this is not a coffee table book but is made to be used – a perfect guide to Irish home cooking (apart from a few recipes that are more for special occasions and the more accomplished cook). A young mother will find healthy and tasty breakfast options, the student will find easy and inexpensive lunch recipes and a home cook will find recipes to bring the whole family to the table. This book proves that Trish Deseine hasn't lost her love for traditional Irish food despite her many years in France.
Photography in the book is done by Deirdre Rooney who counts Martha Stewart among her clients and has collaborated with Trish Deseine on previous projects. Deirdre's style is warm, inviting and stunning – she can make mash of carrots and parsnip look stunning.
The photo is taken from Trish Deseine's Twitter account, signing the French version called Mon Irlande.