Cookbook of the Month: Italian Street Food
Cookbook of the Month: Italian Street Food – Italian food is loved and appreciated the world over and more books have been written about the subject than I can imagine. So a few days ago, I came across 'Italian Street Food' by Paola Bacchia.  This Cookbook of the Month: Italian Street Food is a review of food I love and someone has finally written a book about.
Most people who think of Italian food will think of pizza and pasta but there is so much more to discover. So why do people love Italian food so much? It is easy, fast and utterly delicious. Italy might not be famous for street food but that will change soon if this book is anything
to go by. The thought of Nonna's Little Meatballs in a Roll, Grilled Lamb Bites, Puffed Cheese Bites and Apple Fritters makes my mouth water.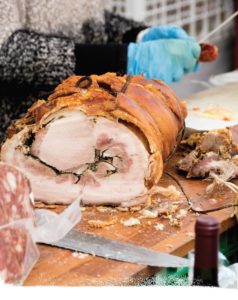 The book is written by Paola Bachia, who was born to Italian migrant parents living in Australia has started a blog about her trips to Italy enjoying the amazing food of the country. Being an Australian writer, the book is written with the European reader in mind and nothing sounds too strange to us. Paola has not only written the book but has also photographed beautiful & tasteful photos of places, people and food. The whole book feels personal and the author takes you on a journey of her favourite places.
The book is divided into nine food chapter with an introduction and notes on ingredients. The food sections are Pizette & Crostini, Fried Savoury Snacks, Panini, Fish & Seafood, Meat, Breads & Baked Goods, Sweet Treats, Ice Creams & Sorbets, Sauces & Basics. I have to admit, the fried savoury snacks are the most delicious sounding but that's just me. This book is perfect if you are planning an informal gathering and want to serve tasty and interesting food without the hassle of a dinner table setting.
Paola Bacchia's blog is also a great source of recipes – not only street food but delicious dishes like Chestnut Ricotta Gnocchis with Blue Cheese and Honey, Nettle Ravioli with Goats Cheese or Red Radicchio Risotto with Pancetta and Red Wine. This author is definitely someone to follow for some tasty bites.
Save