I remember, as a child, we always had a tin of cookies in the house in case guests called. We weren't allowed to eat them as you never knew who might be calling for a nice cup of tea – in these days you would always offer a bikkie with the cup. We also had a Sunday tradition to have a mini afternoon tea with home-baked cakes or cookies. I have since given up on that tradition since my mum passed away but the other day when talking about challenges and New Year Resolutions with a friend, I thought, why not do a cookie challenge. Come up with a new recipe every week and post the recipe on the blog.
So here is the first of the weekly cookie recipe. It came about when I decided for myself to bake some cookies to take to a craft group I joined a while back. It was late afternoon, we just returned from a funeral and I was a tad tired. So it had to be something easy yet tasty. I had flour, butter, tangerines and a shelf full of spices. I love spices and really have a shelf full of turmeric, cumin, green and brown cardamon, cinnamon, coriander seeds… it makes cooking more interesting, don't you think?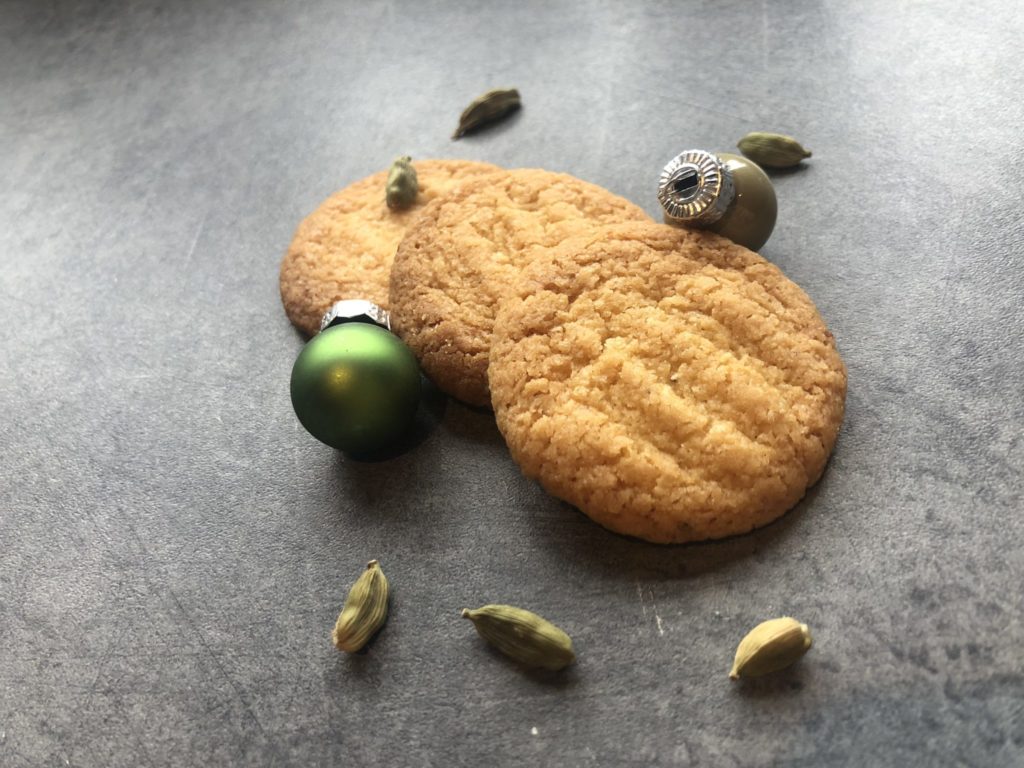 Anyway. I decided on using the zest of the tangerine and green cardamon as a flavour combination – took the cookies to the craft group the next morning and got the thumbs-up from the ladies. Some found it a bit rich with the amount of butter but I think, a shortbread needs to be 'buttery'.
Tangerine & Cardamon Cookies
makes about 25
225g soft butter
110g caster sugar
275g self-raising flour
zest of 1 tangerine (or mandarin)
1tsp ground green cardamon
Preheat the oven to 160C
In a bowl, cream the butter and sugar until light and fluffy. Add the flour, zest and cardamon and mix with the butter mix. Form a smooth dough (you will need to bring it together with your hands after a while).
Divide the dough into walnut size balls, arrange on a baking tray lined with baking paper, leaving gaps in between (the cookies will spread a bit). Using a fork, dipped in water (fork might stick to the dough), flatten the dough balls slightly (using the fork leaves a pretty pattern). Bake in the oven for about 10 mins until slightly golden.
Leave to cool for a few moments before transferring the cookies onto a wired rack. Leave to cool. Store in an airtight container for up to a week.
Enjoy xx