This week's cookie is a bit different as it is savoury but who says that cookies or biscuits have to be sweet (at least I hope there is no one saying it). Anyway, I baked this shortbread for a non-sweet afternoon tea party last year and loved it. It is amazing how many sweet things can be turned savoury and still taste amazing. These herb shortbread cookies are proof of that.
I liked the idea of adding herb leaves as decoration as they look just so pretty and make a great addition to any cheese or meat board.
Savoury Shortbread

160g plain flour
100g parmesan cheese, finely grated
2 tbsp rosemary leaves (whizzed up in a food processor or chopped really fine)
1/2tsp salt
110g butter, cubed
selection of herbal leaves like parsley, sage and thyme
In a food processor, add the flour, parmesan, minced rosemary, salt and butter. Pulse to combine into a crumbly mix. If the mix is too dry add a little water (not too much, it is easier to add than to take away). Pour the mix onto a clean surface and bring together with your hands; you want a smooth texture with no flour showing. Wrap in clingfilm (if you flatten the dough, it will be easier to roll out later) and place in a fridge for at least 30 mins.
When you are ready to start again, preheat the oven to 160-180C (lower temperature for a fan assisted oven). Line a baking tray with a sheet of baking paper.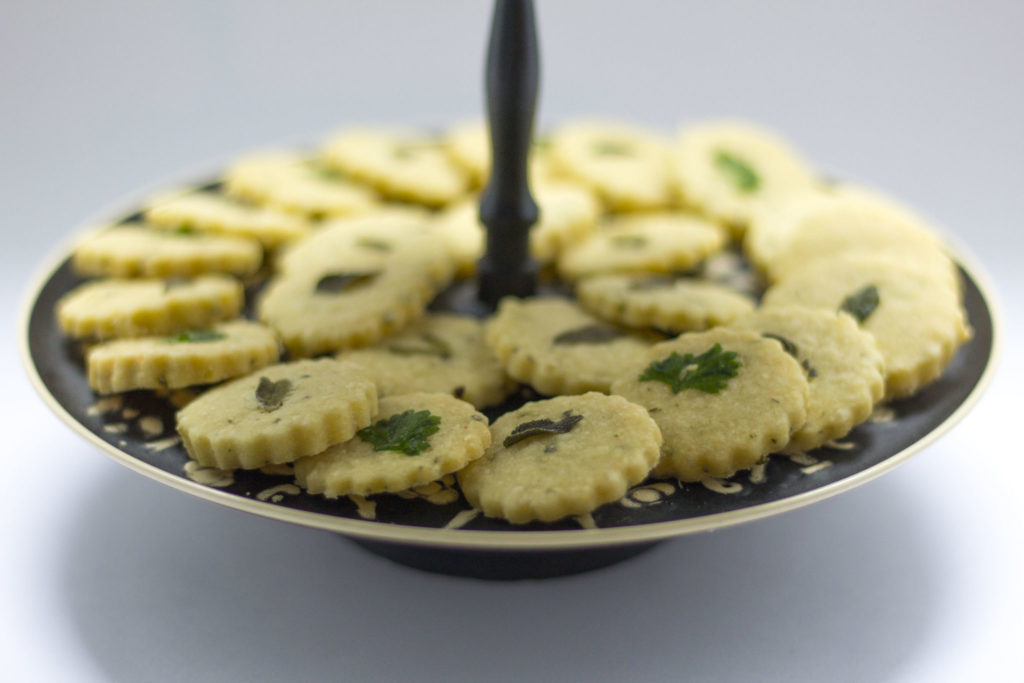 Roll out the dough to 3mm thickness – instead of rolling the dough out on a floured surface, use two sheets of clingfilm or parchment paper and roll out between the sheets (adding flour will result in a more dense consistency). Arrange the leaves of the herbs evenly on top of the dough and covering with a sheet of clingfilm or parchment paper roll over to indent the leaves into the dough. Using a round cutter (I used a 4cm fluted cutter) cut out rounds and place on the prepared baking tray, leaving space between.
Bake for approx. 10-15 minutes. You don't want it to brown, just to start to turn a light gold on the edges. Leave to rest and place on a wired rack to cool. Arrange on a platter or store in an airtight container until needed.