This week's cookie is the tasty Walnut Cookie. We always have walnuts in the house as Mr T is using them in his brown bread and I am partial to a delicious walnut & honey bread.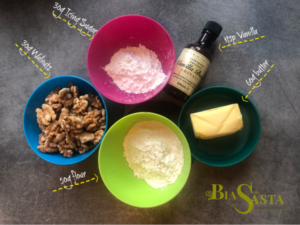 When I thought what to bake this week, a quick look through the cupboard revealed a new bag of walnuts. This is a very easy recipe and very quick to make. It took me 30 minutes start to finish so is perfect when Aunty Mary is on the way.
It is essential that you cream the butter well until light and fluffy and pale in colour. Sifting the icing sugar and flour makes it easy to mix and will give you a lovely light texture.
Make sure the oven temperature has been reached before putting the tray in as the cookies might spread to thin nothing otherwise.
Walnut Cookies
30g walnuts
60g unsalted butter
30g icing sugar, sifted
1 teaspoon vanilla
50g plain flour, sifted
20 walnut halves
Pre-heat the oven to 160C.
Finely chop the walnuts (not too fine, you still want some texture). Cream the butter with the sifted icing sugar until pale in colour and fluffy. Add the chopped nuts. Stir in the sifted flour and combine well.
Roll teaspoonfuls of dough into balls (you might need to flour your hands as the dough can be quite sticky) and place on a baking sheet with space of 2.5cm between each (they do spread slightly).
Press a walnut half on each dough ball, pressing down slightly. Bake for 10 minutes or until light golden brown (make sure that the walnuts don't burn). Cool on wired rack and dust with icing sugar before serving.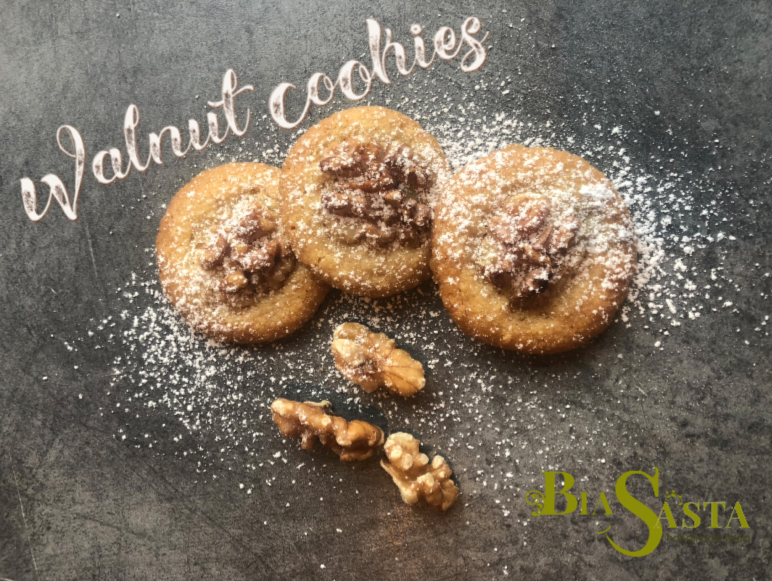 Makes 18-20 cookies, depending on size.
Enjoy