A few weeks back, I had the pleasure interviewing some visitors to Cork from Europe. Oscar Gonzáles is from Spain and has a great appreciation for craft beer and cider and we had a lovely chat about the Irish craft beer industry. Anyway, when he returned to Spain, he left me a little gift of a bottle of Menéndez cider from Asturias. The winery is producing traditional natural cider since 1940. Ok, here is the thing, you will ha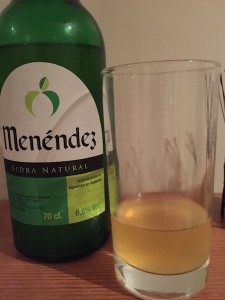 ve to be a cider lover to appreciate this clean cut drink. Upon opening the bottle, the aroma of ripe apples escapes to fill the air with images of mature orchards on a sunny autumn day. The slight cloudy pale yellow liquid settles nicely in the glass without fizz and the first sip seems to attack the unsuspecting taste buds but transforms into a delight of rich tartness that cider apples are so famous for. This is not a cider for lovers of the commercial stuff but for serious connoisseurs of proper cider. You will not confuse this cider with anything else – it is a punch in the face with its natural sharp and dry flavours. The traditional fermentation method of leaving the yeast and bacteria do what it does best in a controlled environment guarantees that the flavours are mingling nicely. After fermentation, the casks are mixed others to achieve uniformity before being bottled.
An overwhelming majority of Spanish ciders come from the Asturian and Basque regions and Asturian cider is called sidra. Spanish cider is unique in being fermented with only the natural yeast present in the apples, the orchards and the cidery. This and the long established regional cider apple varieties root the flavors in time and place giving Spanish ciders their wine-like terroir and resulting in more sharp and dry flavours that showcase the tartness of the apples used. The intensity and complexity of flavours have given Spanish cider a firm stand on the world's cider stage. Traditional sidras are bottled directly from the fermentation and maturation tanks without "post-production" manipulation such as filtration, second fermentation, artificial carbonation, or the addition of preservatives, sweeteners or unfermented juice which is used by other commercial large scale producers. Since the alcohol level is limited by the sugar content of the original apples alone, Spanish cider tops out at fermentation to full dryness at a fairly consistent 6-7% alcohol by volume.
Cider tours through Spain are available through the Spanish Tourist Board and well worth if you are planning to learn more about Spanish Cider