Product Watch: Shandrum Cheese
Discovering a new cheese for me is like discovering a new star for an astronomer. Ok, it might not have the wide-reaching effects but I get always all excited when I see a cheese I haven't tried yet. So, when I went to the English Market the other day I stopped at On the Pigs Back and selected my good old favourites like Milleens, Gorgonzola, Killeens and Coleeney. But then, my eyes were drawn to a dark red covered cheese. The sign said Shandrum, made in Charleville.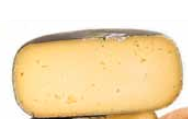 When tasting it, the cheese was smooth, creamy and delicious. The flavour was delicate but lingered and I couldn't resist taking some home. The cheese is quite young with three month maturing time and I like to see how it matures beyond the initial maturing time. Even young, this cheese is a beautiful addition to any cheese board. Its delicate and light flavour makes it a good introduction cheese for people who wouldn't be used to strong cheese or artisan cheese. As we had some serious cheese on the board (ever tried Milleens when it is beautifully ripe???) so we had a robust red wine and the Shandrum cheese got a bit lost. If the cheese is eaten on its own, a Chenin Blanc would go nicely with it.
Shandrum is not a new cheese as such as it is made since 2009 by Tom & Lena Briggane of Clonmore Cheese in Charleville. The cheese is made from pasteurised cow's milk, using vegetarian rennet. The cheese is coated with a black/dark red plastic coating and can be described as a soft gouda.
Disclaimer: I have not been paid to write this review and I have paid for the cheese myself.