Tasty Pumpkin Quesadillas
Whenever my friend Carol comes over for one of our famous 'catch-ups' I try to prepare something she hasn't tried yet. So, last week she came over again and for some re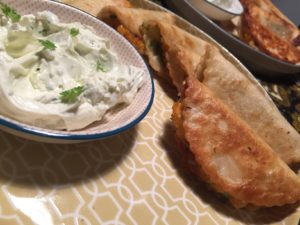 ason, my brain pulled a blank on what to cook for her. It has to be easy to eat as we sit in the living room and it shouldn't distract too much from our 'conversation' (basically we make fun of everything but we take this very serious). Thursday was one of these days where I didn't have a vast amount of time to do some big scale shopping so I checked my cupboards and fridge. Tortillas, feta, onions, garlic, basil, pinenuts and a butternut squash – my brain got a wave of excitement.
My normal quesadillas are very simple with cheese and onions so this time I thought why not create a tasty filling these ingredients. I had no idea if this would work so I texted Carol that she might be regret her visit this time. To make a long story short – it was an utter success. It was delicious and it was one of the few times where nothing was left over for Mr T and he wasn't happy about it (he even called us greedy little b*tches).
You can make it with the large tortillas but I cut out circles to create bite sized portions – everything looks so much more elegant when it is small. I served a dip made from cream cheese and pesto I made from the basil and pinenuts (you can also buy pesto – Iago have a lovely one)
Tasty Pumpkin Quesadillas
4 large Tortillas
1/2 butternut squash (peeled and cubed)
1/2 onion (chopped finely)
3 garlic cloves (finely chopped)
100g feta (crumbled)
pesto
salt & pepper to season
olive oil
sunflower oil for frying
180g cream cheese mixed with pesto
Preheat the oven to 160C. Place the cubed butternut squash in a roasting tin and toss with olive oil. Roast in the oven until soft – stirring occasionally to prevent sticking. Then cut out circles with a cutter (my cutter was 8.5cm in diameter) from the tortillas (I made 14 circles). Heat olive oil in a frying pan and sauteé the onions and garlic until soft but not browned.
In a bowl, mash the squash, then add the onions, garlic, crumbled feta, season to taste. Take a circle, swirl a teaspoon of pesto on and heap a teaspoon of filling to one side of the circle. Repeat with the rest of the circles. Heat oil in a frying pan and add the circles. With a spoon or knife, flip over one side of each circle and press down slightly (they should stick together). Fry until browned, then flip over and repeat. Remove from the pan and let drain on a piece of kitchen towel.
Arrange on a plate and serve with the cream cheese, mixed with pesto.
Bon Appetit