I am at that age now where I prefer to have friends over at mine rather than going to a pub or club to catch up with the girls. And thanks God, I have amazing friends who don't mind calling – one of them is the wonderful Carol. Not only a neighbour but also an amazing friend. Every couple of weeks, we have a 'catch-up' – which is basically drinking wine, eating and chatting away about what had happened since the last catch-up. I try to have something different all the time for her and she is cheeky enough to take photos to tell her colleague the next day what she ate.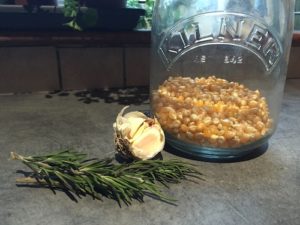 So, last time I decided to do something fun. A few weeks ago, I went to the Tiger store in Cork City and found these lovely retro popcorn boxes and got the idea of making flavoured popcorn. My mum gave me a popcorn machine years ago and I have used it over the years with the normal butter and salt combo. As Carol and I were drinking cider and beer, I decided that my flavoured popcorn had to be savoury. I was still on crutches (long story) so didn't want to go out to buy anything – raiding my cupboards and herb garden instead. The final combo was butter, garlic and rosemary. I used the popcorn machine but below are some ideas on how to make popcorn:
Microwave: I never owned a microwave but a friend of mine uses one and swears that this method works perfectly. Using a paperbag, fill it between 50g – 100g of popcorn kernels. Fold the top closed and fold it again. Place it in your microwave and depending on the power, it will take a few minutes. When the popping stopped, your popcorn is ready.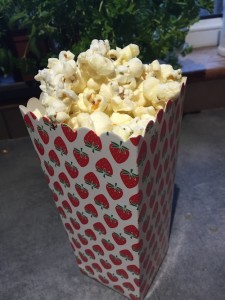 On the stove: Don't use a pot that you like a lot. Add 3 tablespoons of oil (sunflower oil, coconut oil, peanut oil) to a heavy-bottomed pan. Heat over a medium heat and add 100g of popcorn kernels. Place a lid on and let the popping begin. To prevent the popcorn burning and sticking to the bottom, keep shaking the pot until the popping stopped.
How ever you make your popcorn, have the flavours ready as it needs to be tossed into the hot popcorn.
For my garlic and rosemary – heat about 50g butter in a pan. Grate 2-3 gloves of garlic (or more if you really like garlic) – grating or mashing the garlic will prevent that you might into pieces of garlic. Chop a sprig of rosemary finely. Add both to the melted butter and let to infuse over a low heat for a few minutes. When the popcorn is ready, pour the infused butter over it and toss the popcorn around to be covered in the butter. And that's how you make flavoured popcorn the easy way.
You can try any flavour combination really. For the sweeter tooth, toss the popcorn in warm maple syrup. Mix it with candied nuts or simply rely on the good old fashioned butter & salt combo – still tasty. Look around at party stores for fun ways of serving the popcorn – I found these popcorn boxes in a Tiger store in Patrick Street – but it seems to have been a seasonal product but I am sure you can find them easy enough. Woodies Party Zone has them – and you can buy them also online.
Let's start popping xx