One Bite Quichettes
I was once called the Queen of FingerFood. And I took it as a compliment. Indeed, I love fingerfood, not only to eat it but to serve it to my friends. You can prepare everything in advance, having loads of time to chat to your guests. No running in and out of the kitchen.
So the last time Carol came over (she is my friend and neighbour and we meet about once a month for a good ol' natter), I was too lazy to go shopping. Having always different cheeses in the fridge, the decision was easy. The secret to fingerfood is that you can indeed take it with your fingers and pop it in your mouth – no awkward balancing of plates, spoons etc.
These little One Bite Quichettes are delicious, easy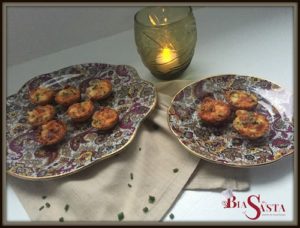 to make and look pretty arranged on a tray. I used a mix of grated cheddar, gouda and parmesan cheese, simply because this is what I had in the fridge. You can use any cheese that melts nicely. I have a small little herb garden with rosemary, thyme, marjoram, oregano, chives and parsley. For these quichettes, I used chopped chives but feel free to use any of your favourite herbs. Cooking is personal – so make it yours.
One Bite Mini Cheese Quiche
24 mini pastry cases (buy or make your own)

100g mix of grated/crumbled cheeses

1 medium egg

50ml cream (if you feel indulgent, use double cream)

1 tbsp chopped chives

1tsp Dijon mustard

salt to season
Preheat your oven to 160/Gas 4. If you are making your own pastry cases, blind-bake them before continuing below.
Whisk the egg into the cream, add the chopped chives and salt to taste. Add the mustard and mix well. Combine the cheeses. Place the pastry cases on a baking tray. Divide the cheese between the pastry cases. Carefully, spoon enough of the cream mix into each of the pastry cases. You don't want the mix to pour over. Place the baking tray in the pre-heated oven on the middle shelf and bake until the cheese has melted and the cream mix has set. Serve warm or at room temperature.
Enjoy xx