Coconut & Lime Cookies
Everyone should have some type of cookies in the pantry in case a neighbour pops in for a cup of tea. I personally love making cookies, I remember my mum and myself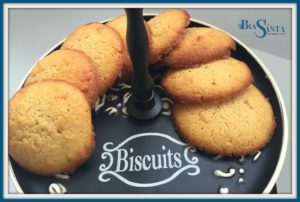 making Christmas cookies. Cutting out the shapes, making sure the baking tray was nicely buttered (we are talking before the invention of baking paper). We never iced them for some reason, not sure why but it was then that I got the bug of making cookies. It should be the first parents make with their children, introducing them to baking and hopefully later to cooking.
Making good cookies is a lifeskill that is needed for the survival of human kind (ok, I might be exhilarating a bit) but you get my idea.
The other day, I started again to drink a hot lime in the morning (I always start when the weather gets autumny) and decided to use the rind of the lime. A jar of coconut flakes smiled at me from across the kitchen and the idea of Coconut & Lime Cookies was born. A little tip: a spoonful of rum into the mix goes nicely.
Coconut & Lime Cookies
250g Butter

90g Cream Cheese

1 lime, zest only

200g light brown sugar

2 eggs

180g plain flour (sifted)

150g self-raising flour (sifted)

50g desiccated coconut

1 tbsp dark rum (optional)
Preheat the oven to 180/Gas 4 and line a baking tray with baking paper
Cream the butter, cream cheese, lime and sugar together with an electric mixer until light and fluffy. Whisk in the eggs, one by one. Stir in the flours and coconut. Add the rum if using. Mix well.
If the mix is too soft, either leave the mix in the fridge for 30 minutes or use a piping bag with a large plain nozzle. If stiff enough, roll the dough into balls of walnut size. Place on the tray about 3cm apart, flattening slightly.
Make sure the oven is hot as the cookies will flatten too much if the oven is too cold. Bake for 12-15 minutes and cool on trays.
Tip: If you like you can make icing from icing sugar and lime just and drizzle it over the cooled cookies. I was way too lazy for any decoration. It was delicious nevertheless.
Enjoy xx