Sometimes you just need a little treat and never more so when two of your closest friends are coming to visit. I love having Sabrina and Derval over for a proper catch up and some afternoon tea. The last time they came was on the morning of my birthday and Mr T and myself were planning to go out for the day. The weather was miserable and I couldn't sleep. So at 5pm I thought I make these little lemon cakes. I had a silicon baking form with 8 bundt cake holes. This lemon mix can be used for larger cakes as well but I like how the small ones look on a cake plate. I drizzled some lemon icing over and added some sprinkles. One word about the icing – next time I am using less lemon juice to have a more substantial icing.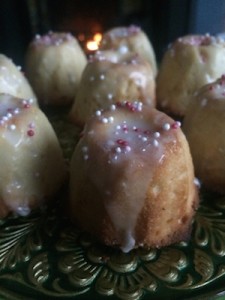 Mini Lemon Cakes (Makes 8 mini cakes or a 4inch round cake)
85g unsalted butter, softened

85g Caster sugar

1 large egg

150g plain flour, sifted

1/4 tsp baking powder, sifted

zest of 1/2 lemon

1 tbsp lemon juice

300g icing sugar

2-3 tbsp lemon juice (extra)
Grease the baking tin. Preheat oven to 180C.
In a bowl, cream the butter and together until fluffy. Add the egg, beating well until well combined. Add the zest and lemon juice and stir to combine. Fold in the flour and baking powder. Pour the mix into the prepared baking tin and bake for about 30 mins (45-60 mins for the bigger cake). Check if baked through and take out of the oven (if not baked yet, return to oven for a further 5 mins). Leave to stand for a few mins and then remove the cakes from the tin and leave to cool completely on a wired rack.
For the icing, mix 300g icing sugar with 2-3 tbsp Lemon juice and mix well until you have a smooth icing. If it is too thin, mix in more icing, if it is too stiff, add more lemon juice. Drizzle over the cakes and leave to set. If you like to add any sprinkles, add this before the icing sets fully.