Real Bread – Easy does it. As most people who know me, I love bread and thinking of my mum who always warned me not to eat warm bread (btw, did it all my life and nothing bad ever happened) – I have to admit it brings warm memories. The other day I was preparing for my radio show The Food Hour and wanted to mention Real Bread Ireland – and thought, I can't just talk about fresh bread without giving the recipe. So here it is – it is such a delight to take your bread out of the oven with all its beautiful aroma. Cutting the first slice will give you such satisfaction that is hard to beat.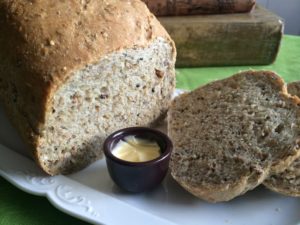 Basic White Yeast Bread
500g strong flour
2 tsp salt
7g of dried yeast or 10g of fresh yeast
3 tbsp olive oil
300ml warm water
Mix the flour, salt and yeast in a large bowl (if you are using fresh yeast, you need to crumble the yeast into the flour). Make a well in the centre, then add the water and oil and start mixing the flour mix with the water using your hands. Keep at it, bread making is a sensual action, let your hands feel the dough coming together. If it is too stiff, add a bit warm water. When you feel it coming together, turn the dough onto a floured surface and start kneading the dough. This is the best part of the whole breadmaking – you will feel how the dough comes to life. When you have a smooth dough, place it in a bowl and cover the bowl with a towel and leave to stand for about an hour. The dough should double in size. When done so, knock it back and knead it for a few minutes. Shape it as you like – I normally use a lined loaf tin and bake it for about 25-30 minutes in a pre-heated oven of 200C or gasmark 7.
Trust me – there is nothing more satisfying to take your bread out of the oven and have the whole aroma floating through your kitchen. Cutting the first slice and lathering it with butter must be one of the simplest pleasures in life. When you get more comfortable making your own bread, start adding roasted chopped onions and garlic, chopped herbs or grated cheese. Your imagination can be endless. Keep an eye out for upcoming bread courses here on Bia Sásta