Cork Gourmet Trail
The fabulous Sandra Murphy is a force in Cork's food and event scene and she didn't disappoint with the Cork Gourmet Trail as part of the Cork Oyster Festival. Five venues with 12 vendors made for a perfect trail – not too short, not too long. We started off in the Metropole Hotel with a gin reception.  I hadn't tried Kinsale Gin yet and couldn't wait to get my glass (hope the barman di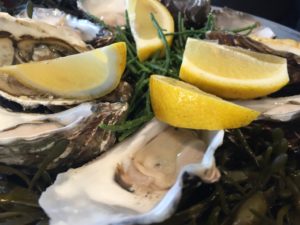 dn't think I was an alcoholic because I looked too eager). The gin was smooth and fragrant – way too easy to drink. Kinsale Gin is distilled with botanics and herbs sourced from Kinsale and the quality of the ingredients showed in the wonderful flavours of the gin. Since it was the Cork Oyster Festival, oysters were served on beautiful platters – I gave my portion to my friend Judy and she didn't hesitate as she loves oysters. I have to admit that I never got the liking of oysters so Judy was in for a treat on the trail.
From the Metropole, we crossed the street to Cask where we were treated to yet another gin, this time in a cocktail with apple (I enjoyed the cocktail too much to ask for the ingredients). The food offerings (yes, there was also food involved) were pizza, crackers with a very tasty salsa, guacamole and sour cream (sounds simple but I could have feasted on it – it really was so tasty). The dessert was made by a lovely girl, panna cotta with raspberry and meringue.
After having our first experience, Sandra moved us on to the newly opened Oyster Tavern at the English Market. Oyster Tavern was already on my list of places to visit so I was delighted to have the opportunity. We were greeted with a glass of wine or prosecco (sparkly for me) and had the choice of several food vendors. Electric Fish Bar had the second offering of oysters and you might have guessed, Judy took my portion with a big smile on her face. Cured salmon and tuna came from Amicus and Oyster Tavern served up some tasty burgers and chips. Happy faces all around made for a great time at Oyster Tavern and I will be back for sure.
But there was no rest for the wicked and we walked over to Bodega where Cornstore and Rachel's offered their tasters next to the Bodega's own food. I haven't been to Rachel's yet so was eager to taste their food. The lobster was tasty but the tomato water was simply stunning and I will have to try this at home. Bodega had wonderful sushi on offer as well as Oreo cheesecake in a cone. Cornstore had the oysters (keeping in style with the Cork Oyster Festival) and Judy was again in food heaven. The chef offered me one and I politely declined so he introduced me to battered deep-fried oysters… I was extremely reluctant to try and said that I wouldn't like to insult him should I had to spit it out. He convinced me that he wouldn't be upset if I just tried. So with my eyes closed and a few prayers I tucked in – and guess what – I actually liked it. I might not ever order it in a restaurant but at least I can say, I ate oysters.
When we left the Bodega, it started raining but nothing could stop the gourmet trail as we moved on to the Imperial Hotel. The hotel bar, Seventy Six on the Mall has undergone some serious refurbishment and looked stunning. But back to the food – this time, Arthur Mayne and Jacques joined forces with the Imperial and food included chorizo & chickpea stew, prawns with a spicy pineapple salsa (utterly amazing), crackers with mozzarella and pesto, dates with blue cheese and a beautiful display of desserts.
But if you thought that was the end of the trail – think again. Despise the rain that got heavier, we moved on to Tequilla Jacks. Located in the former Boardwalk, the premises has changed face completely. Sean McCarthy, owner of Tequilla Jacks was the host with the most and treated us all to a wonderful Margarita which went down way too easy. The food in Tequila Jacks is tasty and creative and we feasted on tostados, tortilla chips and dips and so much more. Cork Airport Hotel sent Italian inspired food with asparagus wrapped in Parma ham, stuffed mini peppers and antipasto sticks.
Returning to the Metropole, guests were treated to a lovely goodie-bag (who doesn't love them) before getting ready to the after party.
A huge thank you to Sandra Murphy for organising this wonderful event – everyone enjoyed the day and I even ate an oyster.
Save