Pasta with Chive Blossoms
Have you ever noticed how beautiful chive blossoms are? A soft lilac colour, delicate petals and just the slightest aroma of chives – I am using these little beauties for years to spruce up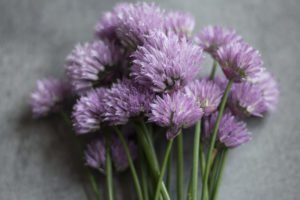 my salads. But with all beautiful things, the season is short for the chive blossoms and I was looking for ideas on how to use them in more dishes than just the simple salad.
Currently, I am infusing vinegar with a bunch of the flowers (more to that in a later post) but my herb bed in the garden is still overflowing with them. As I love pasta (for me it's the ideal summer dish) and always looking for new ideas to create sauces, I thought to use the flowers in a creamy pasta sauce. I didn't have cream, so used creme fraiche instead – the result was stunning (if you love creamy pasta sauces that is).
Chopping up the little blossoms almost felt like a sacrilege but the thought of a lovely al fresco pasta lunch in the garden silenced my doubts quickly. Adding lemon to the mix lifts the sauce – I was a bit too generous but then, I love lemon. The result was a light-ish dish, perfect for a summer's lunch, ready in the time it takes you to boil the pasta and it leaves a lot of room to add other ingredients like peas, asparagus etc.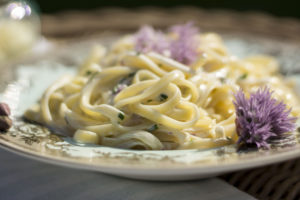 Pasta with Chive Blossoms
Serves 2
200g linguine pasta (dried)
200g creme fraiche
1/2 lemon (juice & zest)
3 tbsp chopped chives
3 tbsp chopped chive flowers
extra chive flowers for garnish
seasoning
Cook the pasta according to the package instructions.
Meanwhile, in a bowl mix together the creme fraiche, chives, chopped flowers and the lemon zest (leave a bit behind for garnish). Start adding a tablespoon at the time of lemon juice and taste in between to achieve the required flavouring. Season as required (I only added a pinch of salt).
Drain the pasta and mix with the creme fraiche mixture. Spoon into bowls and sprinkle the rest of the chives blossoms and lemon zest on top. 
Enjoy xx
Tip: You can substitute spaghetti for the linguine and add peas, asparagus or even prawns (cook them first).