Description
Food Photography Workshop for Chefs
Food photography is an important part of every food business. A picture says more than a thousand words – a good photo can entice visitors to your business while a bad image can have the opposite effect.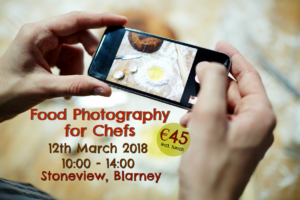 In this workshop, we will visit Stoneview Restaurant in Blarney, Co. Cork and learn about taking professional looking photos under the hot lamp and other locations in a professional kitchen. Shaunagh O'Connell is our expert on the day, having worked with The River Lee Hotel, Cornstore and Coqbull as well as lecturing in CIT, understands the importance of good imagery.
Join us for a special workshop on Monday, 12th March from 10am – 2pm to learn about lighting, atmosphere and setting a scene from one of the best in the business. The first part of the workshop is dedicated to understanding technique etc before we head to the kitchen where Patrick Murphy of Stoneview will have prepared a light lunch for us. Shaunagh will then demonstrate how to take photos with an iPhone/Smartphone under the hot lamp as well as the rest of the kitchen.
After lunch, we will be talking about social media and changes in the algorithm of Facebook, Instagram and Twitter.
Tickets are €45 including lunch. Places are limited, booking is essential and payment has to be made prior to the event. For any inquiries, please contact Elke O'Mahony of Bia Sasta (phone: 087 3168855, email: elke@biasasta.ie).
Please note that tickets are none refundable but can be transferred to a third party.