Description
Craft Product Photography Workshop
Whether you want to make prints of your work or share your work online, it is important to know how to take a professional photograph of your creation. This Craft Product Photography Workshop is ideal for artists, crafters and creators.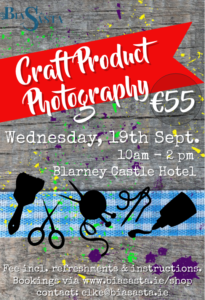 In today's digital times, showcasing your artwork in galleries and shops is not enough anymore. Websites, social media and other digital outlets are competing to get attention of potential buyers and clients. To stand out online (and in catalogues and other printed media) it is essential to create high-quality photography.
As not everyone is in the position to hire a professional photographer, this workshop is ideal to learn the tips, tricks and tools needed to create professional imagery of your artwork. We will be using digital cameras as well as mobile phone cameras. Topics covered are:
Staging your product
Using your digital camera settings
Using your mobile phone camera
Tips & Tricks
Tools for editing
Written tutorials
Q&A
This workshop is taking place on Wednesday, 19th September from 10am – 2pm in the Blarney Castle Hotel (upstair's meeting room).
Tickets are €55, incl. refreshments and printed tutorials. A follow-up email is also included.
We can facilitate max. 15 people so pre-booking is essential.
The Team:
Elke O'Mahony is the organiser of several craft fairs in Blarney & Cork. She is also a food writer and food expert, working with businesses on brand awareness and product development.
Shaunagh O'Connell is a professional food and product photographer from Crosshaven and together with Elke and at CIT has given workshops on food photography.
Please note that the tickets are non-refundable (but transferable). In the event that the event is cancelled by us, tickets will be refunded.