Description
Christmas Craft Day
Join me for our Christmas Craft Day and learn how to create wonderful Christmas cards, decoration for your tree and table. These crafty projects will set you in the mood f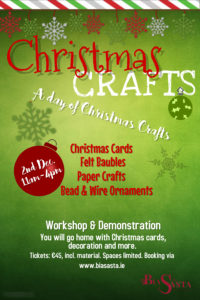 or the Christmas season.
We will be making Christmas cards, Felt Baubles, Beaded Ornaments, Wine Cork Decoration and more. All material for the workshop crafts are included. You will be going home with everything you made on the day. Handouts are also available to take home to re-create the projects. Children over 12 years old are welcome to join in but a parent/guardian needs to be present.
Places are limited, so early booking is advised.
Location to be confirmed
Refreshments are included and lunch is available at extra cost on request.
Start a new tradition by creating your very own cards to send to friends and family.
Elke of Bia Sásta has been crafting for many years, especially Christmas crafts.