2015 winnersAs most of you might know already, I love cheese and Irish cheese in particular. Winning awards abroad in countries like UK, France and Italy – we seemed not to be able to celebrate these outstanding cheeses here at home. In recent years, the Irish Cheese Awards were held during Bloom and I always had a struggle to find any information. It was a side event that was largely ignored. So, my joy was endless when I got the email that a 'proper' awar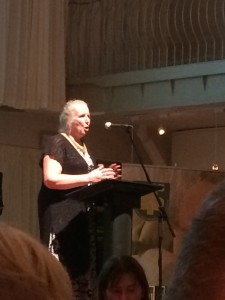 ds event was being organised by CAIS, the Irish Farmhouse Cheese Association in Ballymaloe Grainstore. And what an evening it was.
We were greeted with champagne and canapés made from Irish cheese of course. The 4 course dinner was outstanding without being too fuzzy and I saw many happy faces. John McKenna was the Master of Ceremony and no better person to handle this big task. Legends were celebrated as much as newcomers and it was such a joy to see Bill Hogan being among them. He and Sean Ferry used to create the wonderful Desmond and Gabriel Cheese with their West Cork Natural Cheese company. Due to health reasons, Bill had to give up his cheese career and Sean went on to work with Johnny Lynch to create award winning Buffalo cheeses. And I was over the moon for Macroom Buffalo Cheese for their awards, winning Reserve Champion with their mozzarella. Irish Cheese has finally gotten the celebration it so deserved.
Congratulations to all winners:
Class 1 Creamery Mild Cheddar, aged up to 6 months: Wexford Cheddar by Glanbia
Class 2 Creamery Mature Cheddar, aged 6 months plus: Wexford Cheddar by Glanbia
Class 3 Soft Fresh Cheese, all milks: Macroom Buffalo Ricotta & Macroom Buffalo Mozzarella with the mozzarella winning overall prize
Class 4 Soft Fresh Cheese, Flavour Added, all milks: Ardsallagh Goats Cheese with Cranberries
Class 5 White Rinded Cheese, all milks: Wicklow Farmhouse Cheese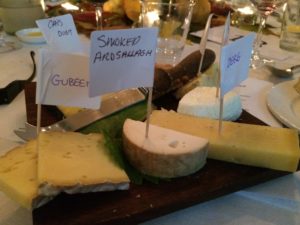 Class 6 Washed Rind Cheese, all milks: Kilree Goats Cheese by Knockdrinna Farmhouse Cheese
Class 7 Blue Cheese, all milks: Mike's Fancy Cheese Young Buck from Northern Ireland
Class 8 Pressed Cheese aged up to 3 months, all milks: St Gall by Fermoy Natural Cheese
Class 9 Pressed Cheese aged over 3 months, all milks: Coolea Gouda Style Cheese
Class 10 Pressed Cheese Flavour added, all milks: St Brigid by Fermoy Natural Cheese
Class 11 Smoked Cheese, all milks: Durrus Cheese
Class 12 Best New Cheese in last 12 months, all milks: Coolattin Mount Leinster Clothbound Cheddar
Reserve Champion Best Cow's Milk Cheese: Coolattin Mount Leinster Clothbound Cheddar
Reserve Champion Best Goat's Milk Cheese: Ardsallagh Goats Cheese with Cranberries
Reserve Champion Best Other Milk Cheese: Macroom Buffalo Mozzarella
Supreme Champion (Sheila Broderick Memorial Trophy): Coolattin Mount Leinster Clothbound Cheddar
CAIS Lifetime Achievement Award: Veronica Steele of Milleens Cheese