Delicious Pancakes
With Pancake Tuesday just around the corner, the shops are full with batter mixes in bottles and even ready made pancakes…. not sure about you but I rather have fresh pancakes made with real eggs and milk rather than dried skimmed milk, dried egg white powder and even palm oil. Making pancakes from scratch is as easy as opening a ready made package. I have been making pancakes for the best of 30 years now and have never changed the recipe as it works every time. Only the filling has been adjusted over the years, starting with sugar and cinnamon sprinkles while living in Germany to lemon and sugar when I moved to Ireland over 16 years ago. I have used these pancakes to make delicious crespelle filled with ricotta cheese and spinach, topped with lovely tomato sauce or serving it with a delicious mushroom ragout. What ever way you prefer, please make the pancakes from scratch.
I am very lucky to have four gorgeous chickens that give me delicious eggs for baking and eating in general. Their egg yolk is a bright orange, warm and simply outstanding. I leave it up to you what type of eggs you use…. but there is a reason that battery laid eggs have such a pale yolk. I am using butter for frying the pancakes – firstly, I like the saltiness of the butter in the pancakes and secondly, I simply don't like frying with oil. One disadvantage of using butter is that it browns quickly and after the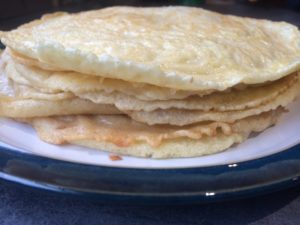 third or fourth pancake it can look quite terrible, so if you are using butter, you might want to wipe the pan clean in between.
This recipe makes enough batter for about 10 pancakes, depending on thin or thick you like your pancakes.
Delicious Pancakes
200g plain flour, 3 eggs, 250ml milk, pinch of salt, sunflower oil or butter for frying
In a bowl, mix all ingredients (bar the oil/butter) and start whisking. The mix will look very lumpy indeed at the start, but keep whisking – the mixture will become nice and smooth. Leave to stand for an hour if you can as it helps the batter.
In a frying pan, heat the butter or oil and spoon enough batter in to cover the bottom of the pan (swirling the pan around to distribute the mix), depending on how thick you like your pancakes. You will see the sides of the pancake swirling up a bit. You will see the top of the pancake changing colour. That is the sign to flip the pancake – a word about flipping the pan…. I have never succeeded, so I am using a spatula… apologies for bursting a bubble here. Continue to cook on the other side until nicely golden brown. Place on a plate and keep warm while continuing to fry the rest of the pancakes.
Bon Apetit x