Sep
24
Mon
Cork Cheese Week
Sep 24 @ 11:00 am – Sep 30 @ 5:30 pm
Cork Cheese Week
The inaugural Cork Cheese Week will take place throughout Cork at a number of participating venues culminating on Sa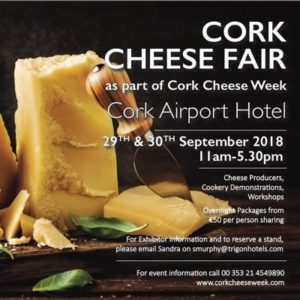 turday 29th and Sunday 30th with a weekend of celebrating all things cheese at the Cork Airport Hotel.
From Monday 24th of September there will be a number of participating restaurants across Cork who will be featuring a special cheese dish (starter, main course or dessert) to celebrate Cork Cheese Week.
On Friday 28th September, Olivo Restaurant at the Cork Airport Hotel will host the inaugural Cork Cheese Dinner, where each course will feature Irish cheese and each course will be paired with its perfect match in wine. Tickets for the Cork Cheese Dinner are very limited and will go on sale soon.
On Saturday 29th and Sunday 30th the Cork Airport Hotel will host the cheese producers from 11am to 5.30pm where you can come and sample cheeses and purchase from your favourite suppliers. During the aforementioned times, there will be live cookery demonstrations highlighting the use of dairy produce, workshops and talks about the cheese and dairy industry.
Click here to book your tickets today.
Oct
20
Sat
Cork Food Harvest Festival
Oct 20 @ 9:00 am – 4:00 pm
Cork Food Harvest Festival
The Cork Food Policy Council are delighted to announce the Cork Food Harvest Festival October 20th and 21st 2018.
This festival celebrates the wealth of community food and growing initiatives across Cork with a host of free events, tours, workshops, talks, demonstrations and tastings around the city and county on the Saturday. On the Sunday, the groups will come together to share in a day of celebration in Fitzgerald's Park.
All welcome. Thank you to all of the growers, community groups, local businesses, and volunteers getting involved! Check out their Facebook Page  & Website to see how you can get involved.