Sep
20
Thu
Macroom Food Festival
Sep 20 @ 12:00 pm – Sep 23 @ 8:00 pm
Macroom Food Festival
Macroom is renowned as one of Ireland's most picturesque 'market towns' and the gateway to West Cork! Macroom Food Festival aims to celebrate this history and showcase the wonderful artisan food producers of the area and all around Munster over four delicious days from Thursday 20th to Sunday 23rd September 2018. Events such as a vintage Tea Dance, tasting extravaganzas, Teddy Bears' Picnic, a Taste Trail around town, International Flavours Marquee, lots of live music, entertainment and fun and a massive outdoor food market will take place at a variety of venues all around the centre of Macroom. Teenagers will get competitive in the live outdoor Cook-Off. There will be plenty entertainment for the kids too with Cork Circus providing their usual whacky street theatre extravaganza, magic show, carousel and kids rides and a children's disco all on Sunday afternoon.
Sep
21
Fri
Cork Oyster & Seafood Festival
Sep 21 @ 12:00 pm – Sep 23 @ 8:00 pm
Cork Oyster & Seafood Festival
The Cork Oyster & Seafood Festival 2018 will take place in The Metropole Hotel from Friday 21st September until Sunday 23rd September.
The festival, in its 6th year will be a celebration that will be centred in the Metropole but will also take place in other venues across Cork City.
There will be live music, an exciting food trail and plenty of other aspects that will happen over the weekend.
If you're not an Oyster lover, it'll still be a wonderfully exciting weekend that you won't want to miss.
Sep
24
Mon
Cork Cheese Week
Sep 24 @ 11:00 am – Sep 30 @ 5:30 pm
Cork Cheese Week
The inaugural Cork Cheese Week will take place throughout Cork at a number of participating venues culminating on Sa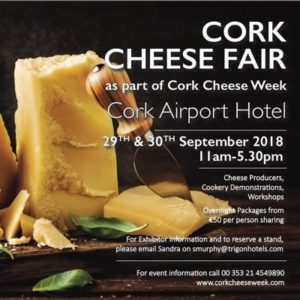 turday 29th and Sunday 30th with a weekend of celebrating all things cheese at the Cork Airport Hotel.
From Monday 24th of September there will be a number of participating restaurants across Cork who will be featuring a special cheese dish (starter, main course or dessert) to celebrate Cork Cheese Week.
On Friday 28th September, Olivo Restaurant at the Cork Airport Hotel will host the inaugural Cork Cheese Dinner, where each course will feature Irish cheese and each course will be paired with its perfect match in wine. Tickets for the Cork Cheese Dinner are very limited and will go on sale soon.
On Saturday 29th and Sunday 30th the Cork Airport Hotel will host the cheese producers from 11am to 5.30pm where you can come and sample cheeses and purchase from your favourite suppliers. During the aforementioned times, there will be live cookery demonstrations highlighting the use of dairy produce, workshops and talks about the cheese and dairy industry.
Click here to book your tickets today.